My name is Money and I live in people's pockets,  wallets, banks to name a few.. Some people decide to store me in their jackets and coats. I come in different denominations and various sizes. I am loved by many and hated by many more. I am attracted to some people and repel others because they don't  treat me with respect. I will explain my reasons for both later. One reason is  because some do not understand my mission in their lives. Many do not really understand me.

What is my mission, you ask? My main mission among others is as a means of exchange of transactions. With me in your possession you can buy goods and services. I am a medium of exchange.  Without me, goods and services would have to be exchanged by barter and this can prove difficult. I am a tool to achieve a purpose.  When used as a tool I meet lot's of needs and provides solution to many problems.  I am God's gift to you. Praise and glorify the giver not the gift. Trusting and serving me only results in fear but if you trust and serve the giver you will live a life of contentment and peace.  As Solomon said in the BOOK 'money answers all things'  Ecclesiastes 10:19
But money isn't everything is it: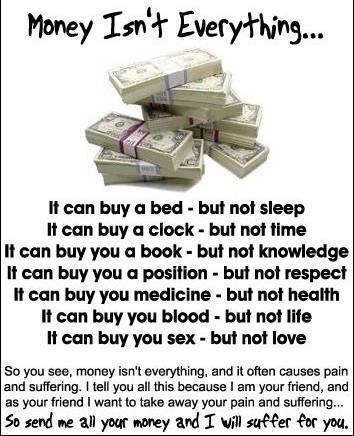 Money can be a god and it can also be a great tool of freedom. It solves problems and it is used to value many things. What am I to you? Do you love money so much that you will do anything to acquire me. The misquoted scripture never says money is evil. It is the love of money that is evil.   Many people are serving me without realising it and as a result will do anything to get me. Judas sold Jesus for 30 pieces of silver.
How do I acquire you? There are many ways:
Give me away and you'll have more: proverbs 11:24, Strange but true
25 ways you can attract money into your life without stress.
Therefore do not be anxious, saying, 'What shall we eat?' or 'What shall we drink?' or 'What shall we wear?' For the Gentiles seek after all these things, and your heavenly Father knows that you need them all. But seek first the kingdom of God and his righteousness, and all these things will be added to you. Matthew 6:31-33
Wealth gained hastily will dwindle, but whoever gathers little by little will increase it. Proverbs 13:11
I hope I have managed to convince you of the importance and relevance of money and most importantly how to increase it.